There aren't many NCAA basketball coaches that can say they've accomplished what Jim Boeheim has during an illustrious 40-year career with the Syracuse Orange men's basketball program. The head coach of the Orange for more than 30 years, Boeheim guided the men's basketball program to nine Big East regular season championships, five Big East Tournament titles, 28 NCAA Tournament appearances, including the 2003 crown.
Jim Boeheim Coaching Career
Boeheim's coaching career began at Syracuse in 1969 when he was hired as a graduate assistant under then-bench boss Roy Danforth. It wasn't long afterwards that Boeheim moved up the ranks and was promoted to a full-time assistant, helping Syracuse reach its first Final Four during the 1975 NCAA Tournament. The following season Danforth departed for a job at Tulane University, leaving the door open for Boeheim to take over the head coaching duties at Syracuse.
In 1986 Boeheim was offered the head coaching job with the Big Ten's Ohio State Buckeyes, but he turned it down to stay at Syracuse. During his tenure as head coach, the Orange have never had a losing season. Boeheim's most notable season came in 2003 when he guided a Carmelo Anthony-led Syracuse team to its first NCAA national championship in school history after taking down the Kansas Jayhawks in the final.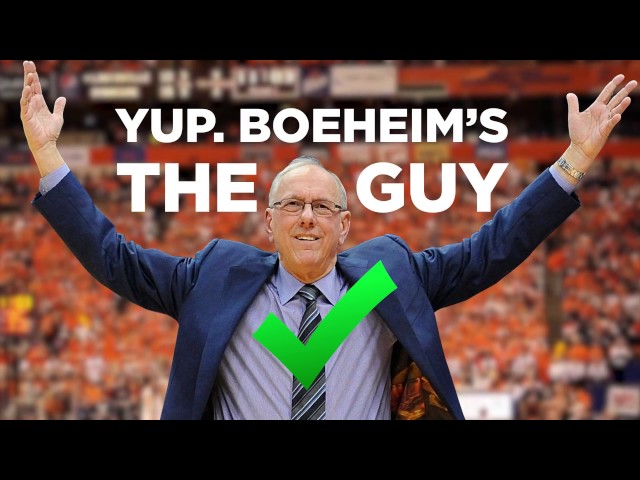 Anthony was one of more than 50 of his graduates that went on to be drafted into the National Basketball Association. A passionate leader, Boeheim's individual trophy case stacks up against the greatest men's basketball coaches in NCAA history. In 2010, Boeheim took home five major pieces of hardware, including the Naismith College Coach of the Year and AP Coach of Year after leading the Orange to a 30-5 record and an eighth Big East regular-season title.
Aside from guiding Syracuse, Boeheim has also been an integral part of the United States men's national basketball team as an assistant. Boeheim has been part of three gold-medal winning USA teams at the Summer Olympic Games — 2008 in Beijing, 2012 in London and 2016 in Rio de Janeiro.
Boeheim's legendary coaching career is winding down, as 2018 will be his last as Syracuse's bench boss.
In our next episode of The Guy — part of our Watch and Learn series designed to help make your betting decisions easier — we take a look at Jim Boeheim's career and break down many of his accomplishments.
Who Is Your Idol And Why?
Every major professional sport has The Guy that's a fierce leader behind the bench.
Whether it's Bill Belichick in the NFL, Joel Quenneville in the NHL or Joe Maddon in the MLB, having a fierce leader on a bench strengthens any team's chances of winning a championship and in turn, gives bettors complete confidence to place their money on a specific club.
So when it comes to NCAA basketball coaches, who's Your Guy?
Automatically, two names come to mind: Mike Krzyzewski of Duke and then Boeheim, who hit the 900-victory club in 2016 and has a winning percentage of .719 as head coach of Syracuse.
For many, Krzyzewski is The Guy — with more than 1,000 career victories, five NCAA championships and 12 Final Four appearances, it's hard to argue that Coach K is the greatest college basketball coach of all time. On top of that Krzyzewski is a two-time Basketball Times National Coach of the Year and three-time Naismith College Coach of the Year.
Some believe Bob Knight is The Guy. With 899 career victories — mainly as head coach of the Indiana Hoosiers — Knight has three national championships and five Final Four appearances. Watching Knight lose his cool on a nightly basis was also a bonus.
Share with us who your guy is and tell us why on our Be A Better Bettor Facebook page.
Check out all of our videos on our new YouTube channel: