Widely considered the greatest soccer player, Lionel Messi's stats and accomplishments can certainly back up that claim. The Argentinian superstar is the only player in history to win five FIFA Ballon d'Or awards — four of which he captured consecutively. Messi is also the only player ever to win three European Golden Boots. A prolific goal scorer and playmaker for Barcelona FC, Messi has captured eight La Liga titles as well as four Champions League crowns. [+]
He holds the record for most goals in a La Liga season with 50 and European campaign with 73.
The only thing missing from Messi's illustrious resume is a major soccer championship. Messi came extremely close in 2014 when he guided Argentina to the World Cup final before falling short to Germany.
Ronaldo — a polarizing athlete on and off the soccer pitch — has also put together an impressive a hall of fame resume. The Portuguese star striker began his career with Sporting CP before inking a mega-deal with Manchester United, where he spent six successful seasons. In 2009, Ronaldo joined La Liga's Real Madrid in a transfer worth $132 million — the most expensive association football transfer at the time. In 2008, Ronaldo captured his first of four Ballon d'Ors — the most for a European player in history.
Ronaldo overcame criticism in 2016 when he helped Portugal capture the European Championship, defeating France in the final. Ronaldo joined the international side in 2003 as an 18-year-old and has more than 70 goals with Portugal today.
Messi and Ronaldo Stats
Comparing stats from the 2016-17 season — both in domestic league and European play — it's Messi who held the advantage. The Argentinian recorded more than 40 total goals and had a goal ratio of 1.05 per game. Messi scored all seven penalty kicks he took, while recording a pair of hat tricks along the way.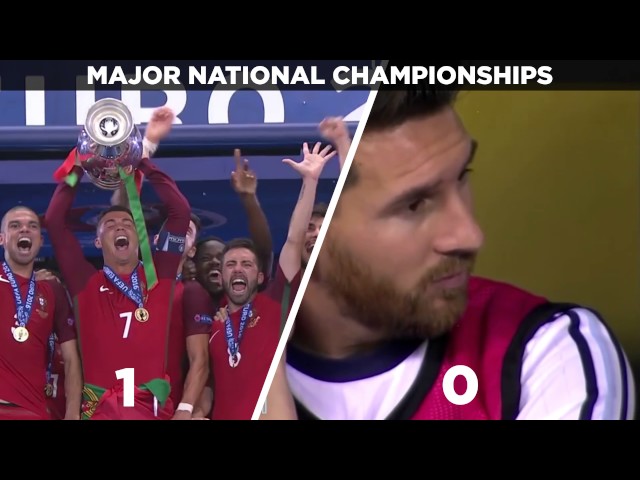 Comparing Superstars In Sport
Comparing superstars — regardless of the sport — can be an entertaining venture. In the NBA, it's hard not to discuss the rivalry between LeBron James of the Cleveland Cavaliers and Stephen Curry of the Golden State Warriors. In the NHL, there's the long-standing comparison between Sidney Crosby of the Pittsburgh Penguins and Alex Ovechkin of the Washington Capitals.
When comparing star players, don't just look at the one-on-on statistics. Instead, it's crucial to take into consideration the team surrounding the star player. For example, Crosby has a strong supporting cast in Pittsburgh and is the reason the club has won a pair of Stanley Cup championships in the last eight seasons.
In the Messi-Ronaldo rivalry, it's hard to ignore Barcelona's success over the eight seasons in which the club captured six La Liga championships.
Ronaldo is a great player, but it's hard to bet against Messi — arguably the best soccer player to run rampant on Earth's footballing stage.