As far as college rivalries go, few are as intense as the one between the Duke Blue Devils and North Carolina Tar Heels — particularly in men's NCAA basketball. Just 10 miles separates the two schools along Highway 15, which is also known as Tobacco Road. A rivalry that dates back to the early 1920s, the two schools have clashed on the court more than 240 times, with the Tar Heels leading the all-time regular-season series. [+]
For the last 142 meetings, at least one school has been ranked in the AP Top 20 or AP Top 25. The last time never school was unranked by AP was on Feb. 27, 1960.
NCAA Basketball Rivalries
The basketball powerhouse programs first met on Jan. 24, 1920, when the Tar Heels pulled out a 36-25 victory over the Blue Devils. Since then, North Carolina and Duke have met at least twice a year. Their games frequently determine the Atlantic Coast Conference champion. Since the ACC's founding in 1953, the Blue Devils and Tar Heels have combined to win or share 49 conference regular-season crowns and 37 tournament titles — including 14 of 15 from 1996 to 2011.
In total, Duke have won five NCAA championships and has appeared in 16 Final Fours, while North Carolina have also won five NCAA championships and appeared in a record 19 Final Fours. The basketball programs have combined for a total of nine NCAA national championships over the last 34 years — translating to 26 percent of all titles over that span.
Check out all of our videos on our new YouTube channel: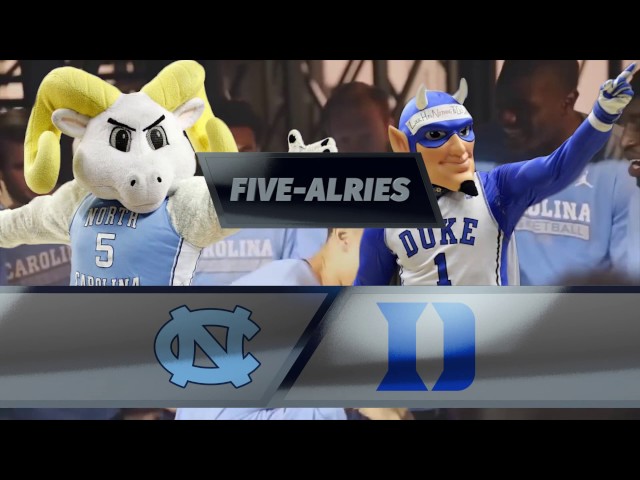 Duke vs. UNC Stats
As intense as this rivalry is between the two storied college basketball programs, the Blue Devils and Tar Heels have never met at March Madness. Duke and North Carolina did meet once in the 1971 National Invitation Tournament, with the Tar Heels edging the Blue Devils 73-67 in the semifinals.
By the 1980s, the rivalry reached unprecedented heights, forcing ESPN to increase its coverage when the two teams clashed. With head coaches Dean Smith of UNC and Mike Krzyzewski of Duke at the center of the rivalry, the two schools battled it out for ACC supremacy during that decade.
Both schools have produced some hall of fame players, the most noteworthy being Michael Jordan, who guided North Carolina to the 1982 March Madness championship along with Sam Perkins and James Worthy. Possibly the greatest player to come out of Duke is Grant Hill, who was part of back-to-back national championships at the school in 1991 and 1992 — one of only three teams in NCAA history to ever win two consecutive crowns.
Behind all of Duke's success has been head coach Mike Krzyzewski, who has more than 1,000 career victories as the Blue Devils' bench boss.