LeBron James is the beast of the East. Stephen Curry is the best in the West. But which National Basketball Association superstar is better? For some, it's like a parent being forced to pick a favorite child, while for others it's a no-brainer. Either way, the rivalry between James and Curry is one that the NBA had been previously lacking for many years. James broke into the NBA in 2003 with the Cleveland Cavaliers, who drafted the forward out of high school. [+]
Just four years into his career, James led the Cavaliers to their first NBA Finals appearance in 2007, where the club lost to the powerhouse San Antonio Spurs. In 2010, James made the controversial decision to leave Cleveland and join the Miami Heat, where he went on to win back-to-back titles in 2012 and 2013.
James opted out of his contract and returned to Cleveland, where the four-time most valuable player had unfinished business. James guided the Cavs to the NBA Final in 2016, this time to face Curry and the powerhouse Golden State Warriors.
After trailing the best-of-seven series 3-1, James helped the Cavs make an improbable comeback to defeat the Warriors and clinch the city's first NBA championship.
Curry took a different path to NBA stardom with the Golden State Warriors. After being drafted out of Davidson College in 2009, Curry struggled to stay healthy early in his career. After an injury-riddled season in 2011-12, Curry returned to the hard court better than ever, winning back-to-back MVP awards in 2015 and 2016.
During Golden State's championship run in 2015, Curry hit 286 three pointers in a single season, breaking his own NBA record. Curry set a new mark the following year, making 402 shots from beyond the arc.
Lebron vs Curry Stats
So going back to the initial question, which player is better: James or Curry?
James has certainly made the case of not only being the better of the two, but also cementing his legacy as one of the NBA's all-time greats.
James, who became the youngest player in NBA history to capture four MVP awards, has never averaged fewer than 20 points per game in his career.
Historically, the more James plays, the better he performs. Take the 2016-17 season as an example as LeBron averaged more than 26 points per game on one day's rest. As good as James is at scoring, at times he's even better at dishing the ball. With a strong support cast around him, James averaged more than eight assists per game — a mark he's met just one other time during his career.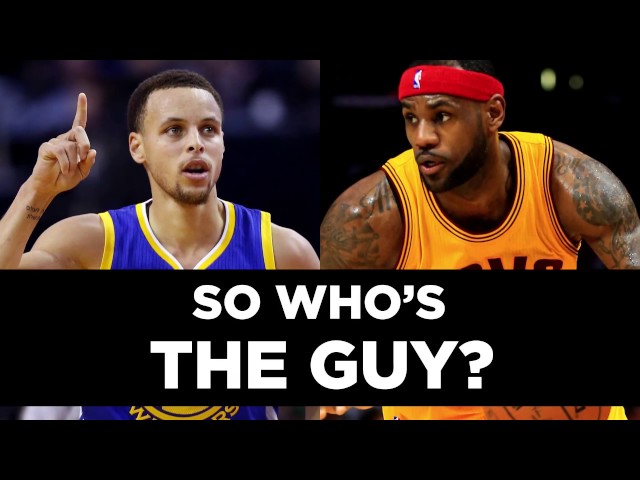 Curry is just as dangerous when the ball is in his hands, which is quite a lot. The Warriors point guard shattered his own NBA record for most three pointers in a single season in 2016 and was .454 percent from long range.
What makes Curry special is his ability to shoot from anywhere — even half court — and make high-risk baskets. He made three buzzer-beating half-court shots just in the 2015-16 alone. Some players won't make that many in an entire career.
While Curry is one of the most electrifying players to watch today, James' accomplishments to this point make him the better player overall.
Who Is Your Role Model And Why
So who's your role model and why?
Every sport has an elite superstar. Sidney Crosby is the face of the National Hockey League, Tom Brady is arguably the greatest NFL quarterback of all time and Mike Trout continues to be MLB's poster boy.
All of these players are major factors in their team's success and ultimately the reason bettors cash in on their tickets.
Visit BeABetterBettor's Facebook page and tell us who your guy is.