The slogan for the PGA Tour is: "These guys are good." When it comes to Dustin Johnson and Rory McIlroy, these guys are great. Since the start of the Official World Golf Ranking in 1986, there have only been 20 players to reach No. 1 status. Dustin Johnson and Rory McIlroy can be counted among that distinguished group, with the likes of Tiger Woods, Greg Norman and Nick Faldo. That is elite company indeed.
Rory McIlroy Bio
McIlroy did anything but take the golf world by surprise. Born and raised in Northern Ireland, McIlroy began hitting drives when he was two, and recorded his first hole-in-one when he was nine.
He topped the World Amateur Golf Ranking at the young age of 17 before turning pro later that year in 2007. In almost a decade since, the 5-10, 160-pound McIlroy has 22 professional tour victories. Today, the 28-year-old is an international superstar.
His resume of tournament wins is quite impressive. It lists 13 PGA Tour wins, including a Tour Championship, and four majors: U.S. Open (2011), PGA Championship (2012, 2014), Open Championship (2014) and Tour Championship (2016). The green jacket at Augusta National is the only major separating McIlroy and the Career Grand Slam. His best finish there is a fourth in 2015.
Only five legends of the game have won all four of the golf's modern majors at any time during their careers: Gene Sarazen, Ben Hogan, Gary Player, Jack Nicklaus and Woods.
McIlroy's earnings top $54 million — an average of more than $5 million a year in his 10-year career. In 2012, he became the youngest player to win $10 million on the PGA Tour and he was named PGA Player of the Year in 2012 and 2014.
McIlroy, who has been the top-ranked player in the world seven times, recently signed two 10-year, $100-million contracts with Nike and TaylorMade. Those lucrative deals weren't the only good news for McIlroy this year. He married American Erica Stoll in what the Irish media called "the wedding of the decade."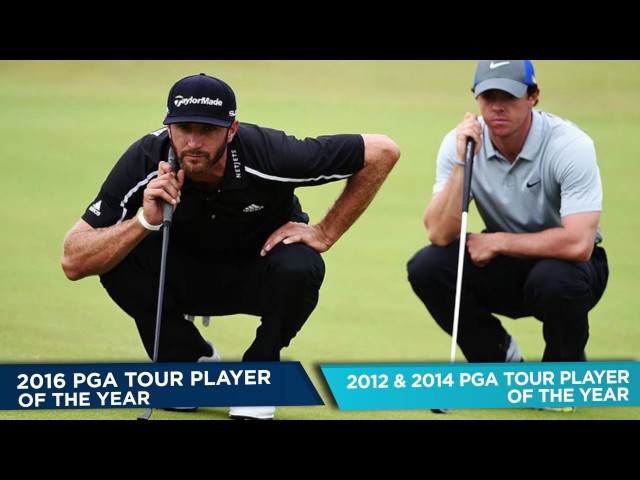 Dustin Johnson Bio
Johnson was born in Columbia, South Carolina, and played collegiate golf at Coastal Carolina University near Myrtle Beach. Like McIlroy, he turned pro in 2007, and is the first player since Woods to win at least once in each of his first seven seasons coming out of college. Today, the 32-year-old is the top-ranked player in the world — a position he has held since February 2017 when he took over the top spot from Jason Day.
Along with his 15 PGA Tour wins, Johnson was ranked inside the top five in each of his first five years on tour. He's always had a world of talent, but his rise to the top hasn't been easy.
He found a way to lose the U.S. Open at Pebble Beach in 2010 despite a three-stroke lead after 54 holes. The same year at the PGA Championship, he was issued a two-shot penalty for grounding his club in a bunker. In 2011, and just one stroke out of the lead at the British Open, he hit a shot out of bounds. And then in 2015, he had a 12-foot eagle putt to win the U.S. Open. He ended up losing the event, ultimately needing three putts on the final hole.
Finally, in 2016, DJ closed the deal. He won his first major at the U.S. Open. He has been the player to beat in every event he's competed in since. He also has five World Golf Championships victories, with only Woods having won more, and he is the first player to win each of the four World Golf Championship events.
To say the 6-foot-4, 190-pound American can crush the ball is putting it mildly. He is one of the longest drivers on the PGA Tour, having been ranked in the top five annually from 2008 and leading in 2015 and 2017. This has added up to more than $48 million in career earnings and PGA Tour Player of the Year honors in 2016.
It's apparent Johnson's major sponsor, Adidas, has never given up on him either. After nearly 10 years together, Adidas and Johnson renewed their relationship in 2016 with another multiyear deal.
He is also part of golf's most photographed couple. Johnson and his partner Paulina Gretzky, who is expecting a second child, have a two-year-old son.
Johnson or McIlroy
World No. 1 vs. World No. 2. Their games are tough to separate. Both of these champions can overpower a golf course, and both are very efficient around the greens.
Even though Johnson has 13 Top 10s in 31 majors, his past inability to close the deal would not earn him many votes against McIlroy. However, it's fair to say Johnson is currently at the top of his game.
McIlroy certainly has the credentials to regain the top spot. He has been the No.1 golfer for 95 weeks in his career, the last time in September 2015. The wild card now is an ongoing rib injury which has been hampering his efforts.
Pick: Johnson is The Guy.