It's that time of year again. March Madness is upon us. You have your bracket. You've started to fill it out. You've crossed out and erased selections a million times over. You've glanced at so many different betting lines that you're head is spinning. You've racked your brain trying to figure out the best way to satisfy your betting needs during this frenetic season. And that's led you here, to us, wondering whether it's even possible to formulate a sound plan ahead of the craziest time in college sports. [+]
Spoiler: Yes, it is possible to formulate a sound plan. The first step, quite honestly, is to breathe. There are a lot of games and even more teams. Don't get overwhelmed. You're not going to get every pick right; you're not going to predict every upset.
But you can hang with the sportsbooks, especially as you progress to the later rounds. Keep in tune with the latest game results and the hottest players, and you'll be just fine.
Best March Madness Betting Lines
All of March Madness' betting lines can be found here, piping hot and ready to serve. These odds move frequently, and they're a lot you must keep track of. It's recommended you don't spend too much time second-guessing yourself, as shifting lines can cause you to hesitate and rethink far too much. Do your research, check the lines and make a decision before they move. [+]
You'll also want to get in the habit of double-checking the lines here with what you see at other sportsbooks—your sportsbooks. Odds vary from site to site, and while the discrepancies are usually minor, even the slightest variation can throw off a betting stance.
So do yourself a favor and compare these lines to those from the website you're betting with, then make a quick decision from there.
March Madness matchups, aka Bracketgology, are fairly easy to understand. Your bracket will have the final 64 teams seeded one through 16 across four different sections. The path to the National Championship Game will be laid out right in front of you and allow you to look toward potential contests that will impact your betting prerogatives.
Try not to get caught up in looking ahead too early. There will be so many games and, thus, so many possible outcomes that you'll only succeed in sabotaging yourself.
Start playing out hypothetical scenarios once you get into the Sweet 16, when the crop of teams you're dealing with is more manageable. If you can plan out specific matchups in advance, you'll be ready once they reach fruition.
Just remember that you have to play out all possible winners and losers of particular games to really make this work. Leaning on one outcome only opens the door for failure.
More March Madness Tips
As unpredictable as March Madness is, you will be most successful when following a set of guidelines that dictate how and why you bet. Sticking to these ideals won't guarantee a perfect month, but they'll certainly make it easier to stage a profitable one.
Check out some of our best tips below.
Respect Hot Streaks
Small sample sizes are normally the enemy of information. But March Madness is different. The entire shindig is a small sample size. You have to draw profound conclusions from one game because, with certain teams, one game will be all you have.
To that end, you'll enhance your betting experience and increase your odds by meticulously combing through the outcomes of games and player box scores. Teams that get hot and stay hot for more than one game are worth buying into. You'll even stumble across a few good Cinderella runs by traveling this route.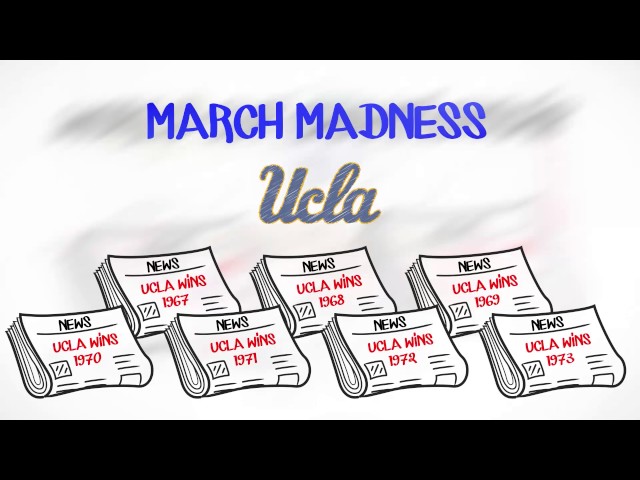 Likewise, don't discount a one or two-game effort from specific players. If they start thriving early on, it's worth giving their team a thorough look.
These miniature streaks often chided for their illegitimacy during the regular season, are a big part of crafting your bets. Single-game point differentials and performances will help you determine how you should be betting. Should you go against the spread? Bet on the moneyline? Invest in over/under wagers?
This sounds more complicated than it actually is. In all reality, you just want to make March Madness about March Madness and nothing else. Regular-season performances are all you have to go off ahead of the first round. After that, most, if not all, of your decisions should be based on what's happened during the March Madness tournament itself.
Avoid Betting on Reigning Champions
Virginia won the NCAA National Championship in 2019. Normally you'd expect the champions to have better odds than 56.00, but Virginia isn't favored for the NCAA Championship in 2020 title. Though generally, as a rule of thumb, don't go with the reigning champs. Do you know what that means? You shouldn't be betting on them.
Don't Get Carried Away with Underdogs
Unearthing quality underdogs is a crucial part of betting on March Madness. But don't get carried away with the process by allowing yourself to become enamored with long-shot odds that have roughly a zero percent chance of becoming true.
Consider this: Since 1979, the lowest seed to make a Final Four appearance is the 11th-place team. The worst squad to make a championship bout, meanwhile, is a No. 8 seed. You need to set limits on what kind of underdogs you're chasing.
Just because you believe in a potential No. 13 seed, doesn't mean you should invest money in them. In all likelihood, they won't make it far in the tournament. That's how it typically works, and as a responsible sports bettor, you need to play the odds.
This year, for the 2020 tournament, you probably shouldn't be throwing money at underdogs who are worse than 25.00. They are beyond long shots, to be sure, but they're the longest of shots you should be taking. Anything longer and you should just steer clear.
Focus on Spreads Instead of Moneyline Upsets
When it comes to predicting upsets, people are smitten by the idea of rolling with moneylines. The return, after all, can be huge. But when dealing with first-round sparrings, these bets are often a waste of money.
You know No. 1 seed never, ever lose to No. 16 seeds. And you also know No. 15 seeds lose to No. 2 seeds about 95 percent of the time. When dealing with these odds, your focus shouldn't be on predicting a surprise winner that, well, isn't going to win. Going with spreads is the smarter play.
To that end, you really shouldn't be investing money in any aspect of low-seeded underdogs unless you've watched them extensively enough. Then, and only then, is it safe to predict that, say, a No. 14 seed will lose to a No. 3 seed by less than 13 points.
See below the top sportsbooks where you can wager online and choose the best one for you: