The best player in Major League Baseball is getting even better. Mike Trout — a two-time American League MVP — has elevated his game to an entirely new level in which the Los Angeles Angels outfielder can be compared to greats like Mickey Mantle, Carl Yastzremski and Barry Bonds. A first-round pick by the Angels, Trout made his long-awaited MLB debut in 2011, hitting five home runs and driving in 16 runs in 40 games played. [+]
The following season, Trout finished with a stellar .326 batting average while also hammering 30 home runs and collecting 83 RBIs. It was the start of great things to come for Trout, who went on to win his first MVP honor in 2014 after yet another 30 home run season.
Mike Trout is The Guy
As great as Trout has been during his career so far, the scary part is the center fielder is getting better. If you compare Trout's stats between 2012 and 2016, the five-time all-star has a remarkable .310 batting average, .410 on-base percentage and .564 slugging percentage. It's hard to top those numbers unless your name is Mike Trout. The five-time Silver Slugger Award winner had a batting average of .350, on-base percentage of .466 and slugging percentage of .757.
American League teams fear pitching to Trout, whose walk ratio has skyrocketed from years past. In the past four seasons, Trout has averaged a base on balls percentage of 13.7 and led the league with 116 total walks in 2016. That spiked to 16.5 in the early stages of the 2017 season — also boosting his overall on base percentage.
Trout is not only an incredible slugger. The 2012 AL Rookie of the Year can also be a difference maker in the outfield, where he's produced some mouth-dropping catches at the wall.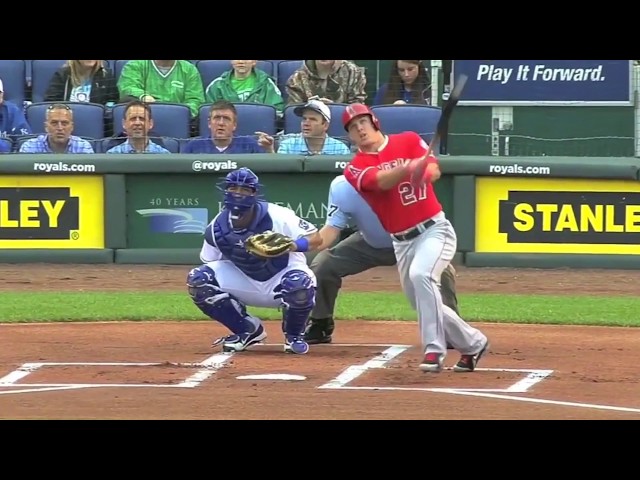 Mike Trout News
Mike Trout is slowly starting to get the Barry Bonds treatment.
It's common for the Angels superstar outfielder to draw intentional walks throughout the season. However, when those intentional walks come late in a game with bases loaded that shows special Trout actually is.
During a regular-season game against the New York Mets, Trout walked up to the plate trailing in the ninth inning and representing the potential go-ahead run. Mets manager considered intentionally walking Trout and surrendering the tying run rather than taking a chance against the star slugger.
"The first thought is, 'I'd almost rather walk this guy than give him a pitch to hit," Mets manager Terry Collins told reporters after the game.
Trout's individual accomplishments haven't translated to team success as the Angels have only made the playoffs once in the last four seasons — 2014 when the club finished with a 98-64 record to win the AL West Division title.
However it's unwise to count out the Angels with Trout on the field. He's a game changer and can make the difference with one swing of the bat. That's why he's the best player in Major League Baseball and only getting better.