More and more National Hockey League clubs are focusing on analytical statistics, which has drastically changed the way bettors are putting their money down on certain teams. In the pre-salary cap era, it was pretty simple to determine the winners and losers on any given night. However, the landscape has changed. The game, which used to be about size and strength, is now about speed, skill and most importantly, puck possession. [+]
Much like soccer, the time a specific team possesses the puck in a game enhances its chances of coming out on top and in turn, puts a little extra cash in your wallet.
An analytics category, which has taken the hockey world by storm, is Corsi — an advanced statistic used in the National Hockey League to measure shot attempt differential while during even strength play. In the simplest way to break it down, Corsi measures shots on goal, missed shots on goal and blocked shots toward the opposition's net minus the same shot attempts directed at your team's goal.
It's common for certain linemates to feed off each other's success, but what if one of those players gets injured or is serving a lengthy suspension?
With Or Without You – The Corsi Effect
That's where WOWY — which translates to With or Without You — comes into the equation. The WOWY method measures the comparison of two offensive players to show the importance one is to the other.
You may not have heard about WOWY and that's because it's an obscure strategy not many sportsbooks are even aware of, making it much more important for bettors to take advantage of method.
There's no better way to explain this than using the Corsi statistic.
Check out all of our videos on our new YouTube channel: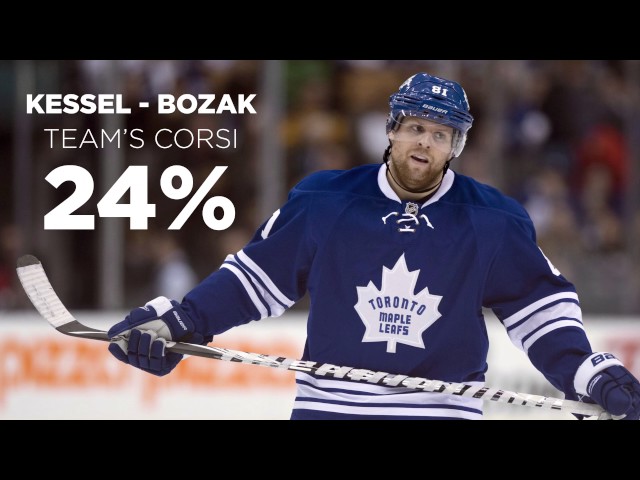 Puck Possession (Corsi) Stats
The Carolina Hurricanes have been one of the best Corsi-producing teams in the NHL on a regular basis.
In fact, during the 2023-24 season the Hurricanes ranked 1st in the NHL in Corsi percentage at 5v5 play with 58.5%, behind only.
In 2022, when Aho and Svechnikov played together at 5v5, the team produced a 55.9% Corsi rating. When Aho played without Svechnikov, the rating dropped slightly to 54.7%. For Svechnikov without Aho, it was 53.4%. This shows the Hurricanes have depth beyond their top duo to drive possession and tilt the ice in their favor. With a roster full of strong skaters, Carolina remains one of the NHL's top puck possession teams.
So, how much stock should a bettor put into Corsi?
Positive Corsi numbers show first hand which team is dominating possession and specifically breaks down which club spends more time in the offensive zone. These teams are more likely to be among leaders in goals for, which also makes them easier to put your money on.
While analytic gurus have praised Corsi, it has come with its fair share of criticism too. Traditional hockey bettors aren't sold on the importance of Corsi and will instead rely more old-school wagering methods — such as wins, losses, streaks and defending champions.
Ready to use Corsi as a key stat when making bets on NHL teams? Use our simple tips and come out on top when it matters the most.