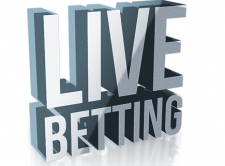 What's that you say? You wanted to get a bet down on the big game today, but you got busy at work and just didn't find the time. Maybe you were doing other stuff and it slipped your mind. Or, perhaps you thought it was a night game, and as it turned out, the contest started at 3 p.m. Never fear. While there was a day when such circumstances would have shut you out of your wagering opportunity, thanks to live betting, the action doesn't stop on the game...
How Does Live Sports Betting Work?
Still a relatively new method of wagering, live betting first gained popularity in European soccer circles, but has steadily advanced into other sports, including all of the major North American competitions. This type of wagering allows you to make bets on the game, and individual increments and elements of the game, thoughout the contest. If you are someone who thrives on fast-paced action both on the field and at the betting window, then live betting is the form of wagering that is best suited for you.
Live betting is as simple as its name - you are wagering on events as they take place. While traditional betting tends to be more about doing your homework, researching and analyzing tendencies and knowing the history of the teams in competition, live betting lends itself more to an instinctive style of wagering. As you gain a feel for how the game is progressing, how it is playing out before your eyes, you follow your gut feeling to make that next wager.
Perhaps you don't have a good feel on which way to wager prior to the start of the game. With live betting, you can wait and see how the flow of the game is progressing and then dive in with a wager. Or if you are watching and a significant game-changing moment happens - say an injury to a star player - that might entice you to bet, or even change sides from your original wager.
Another advantage to live betting is that while you are trying to gauge the way the game is going as it unfolds before your eyes, so are the oddsmakers. They don't have the time on their hands to do intensive studying before setting the line, relying on computer algorithms to help make those choices, so chances are you can get a better number to wager on than you would via the odds at the start of the game. Let's look at some of the live betting strategies you might opt to deploy.
Hammering The Heavy Favorite
Say one team is given strong odds to defeat another. But then the game gets underway and the underdog races out to an early advantage. Suddenly, that huge number on the favorite is coming down, and it might be a good time to put a bet on them at this point. That team wasn't given a significant betting edge by accident, and often, even when a big favorite falls behind early in a game, their superiority will emerge and they will rally for the victory.
Hedging Your Bet
Let's suppose in the above scenario that you did put a significant wager on the heavy favorite, but as the game progresses it is becoming more evident that today just isn't their day and we are looking at an upset in the making. If that's the case, now is the time to hedge your original wager and put a bet down on the underdog. By doing so, you can prevent yourself from taking a bath on your wager on the favorite that is about to lose. At worst, you'll limit your losses and at best, you might even gain a tiny profit on the day.
Middling Your Bet
Betting the middle, what is also known as middiling your bet, is a football pointspread wagering strategy that is capable of generating a significant profit without taking a high-risk gamble. Say you played the New England Patriots as 10-point favorites to beat the Buffalo Bills - but the Bills are giving the Patriots a real game and it looks evident that New England won't cover. You can save yourself from taking a bath by putting a wager down in-game on the underdog Bills. That way, no matter who wins, you win.
Live Betting Options
Depending upon the bookmaker, live betting options can run the gamut of wagering opportunities. In football, for example, you might be able to wager on which team will score next, what unit will score the next points - offense, defense or special teams - as well as whether that score will be a touchdown, field goal or safety. Some betting sites will even go as far as to offer you the chance to wager on which player will score the next points.
Live betting on soccer on some betting sites will offer you the chance to wager on the outcome of the game at intervals throughout the match, and some sites will allow you to bet on the next goal, which team will score it, perhaps even which player will net the goal. You might also be able to wager on which team will get the next yellow card. Likewise, some sites permit wagering on the next frame of a snooker match or the next point in a tennis match.
Even with the fast pace of live betting, knowledge can still be a key element. Take soccer, for example. Knowing when a goal is most likely to be scored is an edge to keep in mind when live betting. For instance, a study of an English Premier League season showed that more than 22 percent of goals were netted during the last 15 minutes of a match, while players found the back of the net just 12 percent of the time during the first 15 minutes of a game.
Live Sports Betting Is The Future
Let's face it, we live in an era where technology rules and gratification is desired instantly. That's why live betting is the fastest-growing option in sports wagering. It's an interactive society and we don't want the action to stop when the game begins. With live betting, the action continues on the game until the game is over.