Betting Picks
Wimbledon: Big Three Dominating Again
Roger Federer (eight), Novak Djokovic (four) and Rafael Nadal (two) have won 14 of the last 16 Wimbledon men's singles title
They've occupied 21 of the 32 spots up for grabs in the men's final since 2002
In women's singles, Serena Williams has won seven titles and played in 10 finals since 2002
In men's tennis circles, Roger Federer, Novak Djokovic and Rafael Nadal are known simply as the Big Three. They've dominated men's tennis for nearly two decades and show no signs of slowing down. And nowhere are they more in control than on the grass courts of Wimbledon.
Yet again in 2019, that's the case. They were the top three seeds in the Wimbledon odds entering play and in Friday's semifinals, all three were still in play – Djokovic (No. 1), Federer (No. 2) and Nadal (No. 3). 
Djokovic (-165), Nadal (+300) and Federer (+350) are the top three choices in the Wimbledon betting odds heading into the semifinals according to Bovada.
Djokovic and Federer join Jimmy Connors and Bjorn Borg as the only male players to win 70 matches at Wimbledon. Federer is the only male player to win 100 matches at the All-England Club.
Nadal and Federer have met three times in the Wimbledon final, in successive years from 2006-08. Federer won the first two and Nadal took the third match.
Federer and Djokokic have clashed twice in finals matches, The Joker winning both times, in 2014 and 2015. Djokovic beat Nadal for the 2011 Wimbledon title.
On the women's side, Serena Williams reigns supreme. She's played in three of the last four finals. Since 2002, Williams has won seven Wimbledon women's singles titles and appeared in 10 finals. BetOnline lists Williams as the -105 chalk in their 2019 Wimbledon odds.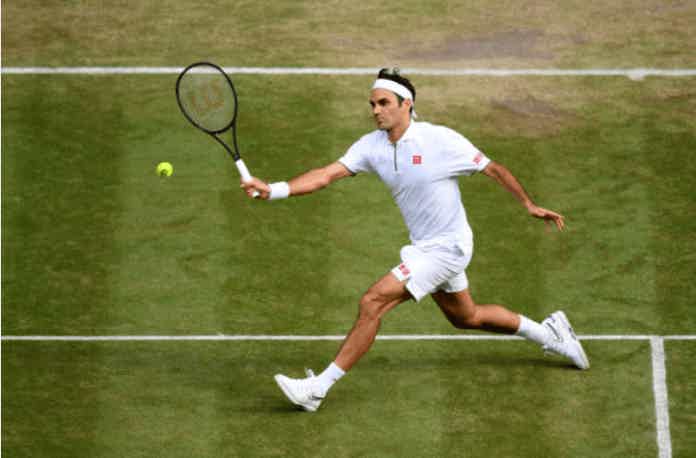 Wimbledon men's odds
Which of the Big Three are you putting your money on in the Wimbledon tennis odds? Logic suggests that one of Djokovic, Nadal or Federer will be holding the trophy come the end of Sunday's final.
After all, the only player to beat them to the title since 2002, two-time winner Andy Murray, didn't enter the men's singles tournament. He's battling back to form from hip surgery and opted to only play doubles this year.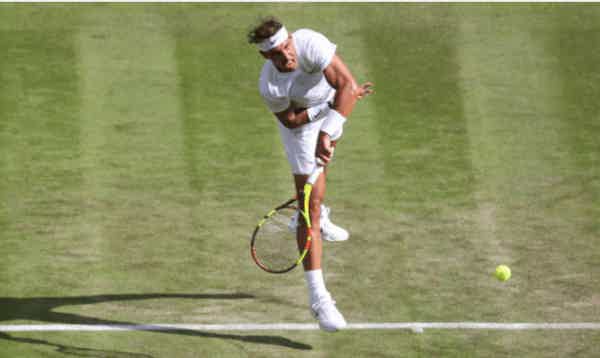 Let's look at the men's final four, based on the odds provided by Bovada:
Novak Djokovic (-150)
Coming back from an injury of his own last season, Djokovic began as the 12th seed but rolled all the way to the title.
He's won three of the last four Grand Slam titles and 31 of his last 32 Grand Slam matches. This year's No. 1 seed, in 2015, Djokovic was the last No. 1 seed to win the Wimbledon men's singles title.
Rafael Nadal (+300)
Nadal, the No. 2-ranked player in the world, was bitter when he was seeded No. 3 behind Federer in the Wimbledon men's odds. It was based on the fact that Federer has been more successful at Wimbledon than Nadal, who hasn't won the title since 2010 and last played in the final in 2011. 
Roger Federer (+350) 
Roger and Rafa, these two old rivals, will clash on court for the 40th time in their careers in Friday's semifinals. Nadal owns a 24-15 overall edge on Federer but it's 2-1 for Roger on grass. All of those grass-court meetings have come at Wimbledon, the most recent in the 2008 final.
Roberto Bautista Agut (+3300)
Agut has beaten Djokovic twice already this season. Overall, Djokovic holds a 7-3 edge. Two of Agut's three wins came in semifinals but none at Grand Slam events. Agut has dropped just two sets all tournament.
BABB Pick: Novak Djokovic (-150)
Wimbledon women's odds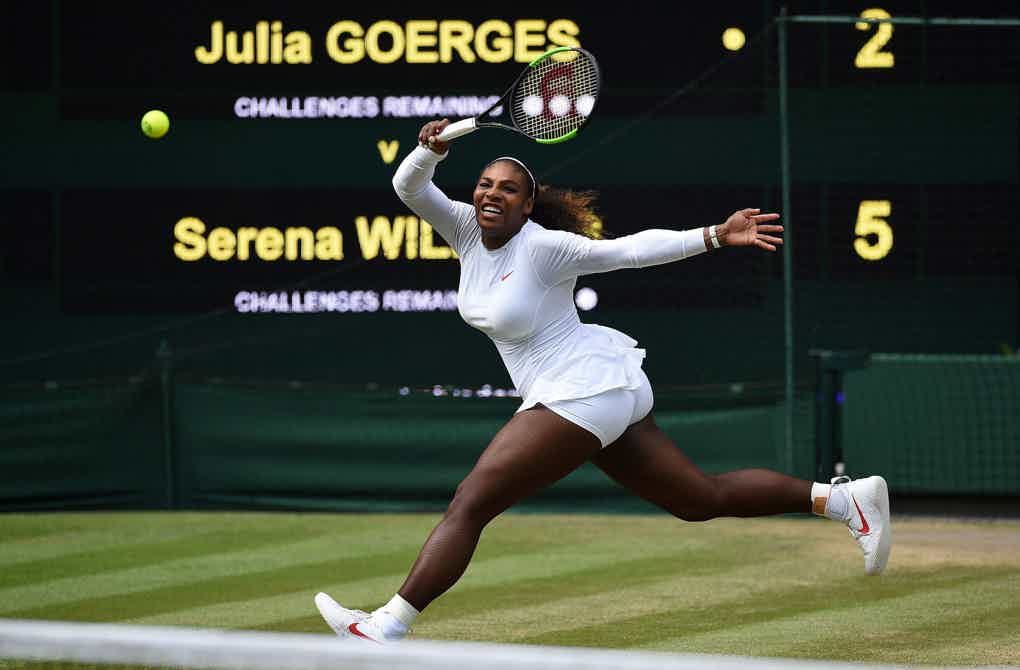 Serena Williams is the only player among the four women's semifinalists who's ever played in a Wimbledon final, let alone won the title. No wonder she's the heavy betting favorite in the Wimbledon tennis odds being offered by BetOnline:
Serena Williams (-105) 
Williams is an overwhelming -397 betting choice to defeat Barbora Strycova in Thursday's semifinal. Williams is seeking her 24th Grand Slam singles title. That would tie her with Margaret Court for the most won by a women in tennis history. 
Simona Halep (+175)
The Romanian star has ranked as the world No. 1 on two occasions and was the 2018 French Open champion. Halep is in her second semifinal at Wimbledon. She lost to Eugenie Bouchard in 2014.
Elina Svitolina (+550)
In 2014, when Halep lost to Bouchard, the latter became the first Canadian woman to reach a Wimbledon singles final. Svitolina is seeking to became the first Ukrainian to reach the Wimbledon women's final. She's already making history as the first woman from Ukraine to play in a Grand Slam semifinal.
Barbora Strycova (+900) 
At the age of 33, Strycova finally reaches her first Grand Slam semifinal. The Czech player was ranked No. 1 in the world as a junior and won two junior titles at the Australian Open.
She's been part of five Federation Cup championship teams with the Czech Repubic. She's 0-3 against Williams and had never made it past the fourth round of a Grand Slam event before this tournament.
BABB Pick: Serena Williams (-105) 
See below the top sportsbooks where you can wager online and choose the best one for you: