Betting Picks
UFC 252 Odds And Picks: Miocic And Cormier Complete Trilogy of Heavyweight Title Bouts
Champion Stip Miocic and challenger Daniel Cormier are both listed at -110 odds to win their World heavyweight title bout at UFC 252
Both fighters have won one of two previous bouts when facing each other
Each of those fights ended in knockouts. This bout is given -120 odds to last under 2.5 rounds
UFC President Dana White didn't mince words when he pointed out that the third leg of the Stipe Miocic-Daniel Cormier trilogy at UFC 252 would determine much more than just who is the world heavyweight champion of UFC. White believes that the winner of this bout will stand proudly as the greatest heavyweight fighter in the history of the promotion.
UFC 252 Full Card
Stipe Miocic (19-3-0) vs Daniel Cormier (22-2-1)
Junior Dos Santos (21-7-0) vs Jairzinho Rozenstruik (10-1-0)
Magomed Ankalaev (13-1-0) vs Ion Cutelaba (15-5-1)
Sean O'Malley (12-0-0) vs Marlon Vera (15-6-0)
Livinha Souza (13-2-0) vs Ashley Yoder (7-5-0)
Felice Herrig (14-8-0) vs Virna Jandiroba (15-1-0)
Ike Villeneuva (16-10) vs Jorge Gonzalez (16-4)
Daniel Pineda (18-11) vs Herbert Burns (11-2)
Danny Chavez (10-3) vs TJ Brown (0-1)
Chris Daukas (0-0) vs Parker Porte (0-0))
Jim Miller (32-14) vs Vinc Pichel (11-2)
John Dodson (22-11) vs Merab Dvalishvili (11-4)
A Trilogy Of Thunder
In two previous bouts, neither required the full five rounds to determine a winner. In their first fight at UFC 226, Miocic's record 785-day, three-defense reign as heavyweight champ came to a crashing halt when Cormier knocked him out in the first round.
With the win, Cormier, who was also the reigning light-heavyweight champ, joined Conor McGregor as the only fighters in UFC history to simultaneously hold multiple title belts. Cormier later became the first fighter to defend titles in separate weight classes.
First Fighter
Second Fighter

Stipe Miocic

-110
OFF (Draw)
-110

Daniel Cormier

J. Rozenstruik

-145
OFF

(Draw)

+125

Junior Dos Santos

Sean O'Malley

-302
OFF

(Draw)

+252

Marlon Vera
The rematch, held at UFC 241, saw Cormier's heavyweight rule come to an end. Miocic won by technical knockout in the fourth round.
Does Smaller Cage Benefit Cormier?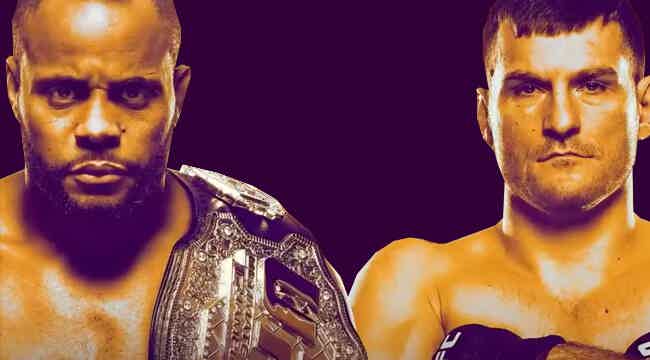 This fight was originally planned for Dublin, Ireland. However, the COVID-19 pandemic has led to the UFC 252 card being rescheduled for Aug. 15th at the UFC Apex in Las Vegas. This development could have a dramatic impact on how you should place your wagers at UFC betting sites and in the way the fight plays out.
Click here if you don't know how to bet on the UFC.
The Octagon at the UFC Apex is 25 feet in diameter. That's five feet smaller than what the fighters are accustomed to in major bouts such as this one. It should limit the escapability of the fighters.
As a former Olympic wrestler, this should work to Cormier's advantage. If he can turn this into a ground and pound fight, that plays to his strengths. Once a champion Golden Gloves boxer, Miocic is known for his striking power.
The smaller cage also should lead to more sustained action and that could also impact the UFC betting odds. There's a prop at BetOnline offering -120 odds that the fight will last less than 2.5 rounds.
Neither of their previous meetings went the distance. The smaller fighting area should made this a prop worth playing.
Stipe Miocic (19-3-0) vs Daniel Cormier (22-2-1)
At 6-foot-4, Miocic holds a distinct height advantage over the 5-foot-11 Cormier. He'll want to stay at a striking distance in order to deliver the payload from his power punching. Miocic likes to work the body and wear down an opponent. However, the smaller octagon will make a stand-up fight a challenge.
Cormier will seek to get into clinches and take this fight to the mat. At the same time, don't sleep on his punching ability. Even though he lost the rematch, Cormier held a 181-123 edge over Miocic in terms of strikes. That total included 162 significant head strikes.
This third Miocic-Cormier fight clearly sets up in Cormier's favor in the UFC 252 betting odds.
Jairzinho Rozenstruik (10-1-0) vs Junior Dos Santos (21-7-0)
Heavyweights Rozenstruik and Dos Santos train at the same gym, which led to a bizarre scenario in which Dos Santos offered to spar with Rozenstruik while they did prep work for their bout. Rozenstruik turned down the suggestion.
Rozenstruik lost his last bout to Francis Ngannou at UFC 249. Prior to that, he was 10-0 with nine knockouts and looks a strong play in the UFC Las Vegas odds.
Dos Santos, 36, is a cagey veteran who won't be beaten easily. He's is on a two-fight losing skid, though.
Sean O'Malley (12-0-0) vs Marlon Vera (15-6-0)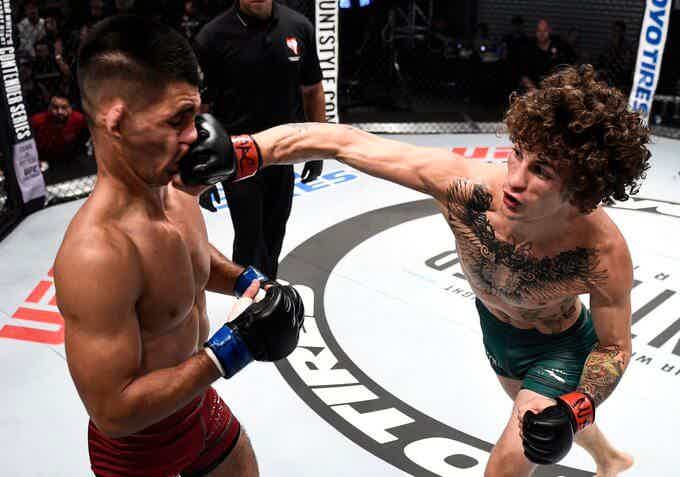 Sean O'Malley is 12-0 with first-round KOs in his last two fights. Photo by: @MMAHistoryToday (Twitter.com).
With his wild, colorful hairstyles and strong social media presence, O'Malley is among the most popular fighters in UFC at the present time. However, he's much more than just hype. O'Malley delivers the goods. His 12-0 in his career, with first-round knockouts in his last two fights on his resume.
Vera gave top featherweight contender Song Yadong all he could handle before dropping a unanimous decision in his most recent bout. He's never been knocked out or submitted in his career and is undoubtedly the toughest opponent O'Malley has faced.
Sugar Sean won't end Vera's night early but go with the UFC 252 odds that favor O'Malley to end his night with another victory.
See below the top sportsbooks where you can wager online and choose the best one for you: