Betting Picks
2018 Speakeasy Stakes Picks And Odds
Run at five furlongs on the Santa Anita turf course, the Speakeasy is actually a bit shorter than the scheduled 5.5 furlong dash they'll be running at the 2018 Breeders' Cup on November 2. Open to horses age two, the Speakeasy has drawn a field of seven, racing for a purse of $100,000.
There are very few turf races for two-year-old horses in North America throughout the racing season, and this is reflected in the fact five of the seven starters in the Speakeasy have so far in their short careers only raced on dirt tracks, which presents bettors with a real handicapping challenge.
One of those with no previous turf racing experience is Mae Never No, tabbed as the 2-1 morning line favorite for the race despite the fact she's the only filly in the race going up against the boys. Last out she was supposed to race on turf in in the Colleen Stakes at Momouth Park, but bad weather forced officials to move the race to dirt.
It didn't really matter to Mae Never No as she ran away from the field to win by seven lengths. So now it's just a question of whether she can transfer her speed to the grass surface.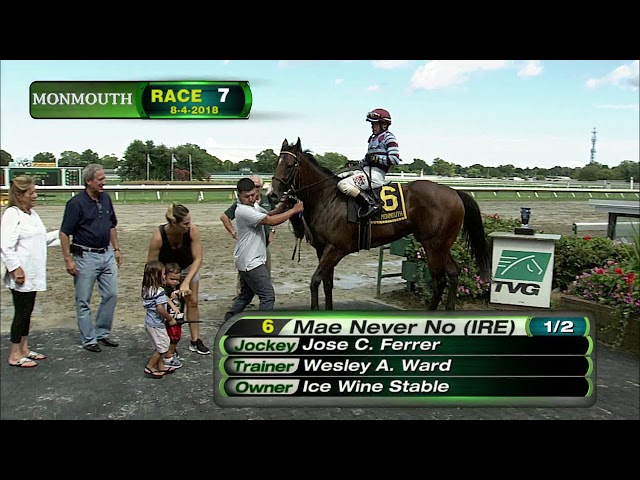 Betting Tips
Hartel Has Shown A Liking For Turf
One of those in the field that does have turf racing experience under his saddle is Hartel, second choice in the ML at 5-2.
After starting his racing career with two uninspring races on the dirt, he was switched to turf third time out at Del Mar and suddenly he was a completely different horse. He won that race, and then came back to run a close second in the Del Mar Juvenile Turf Stakes.
Hartel is clearly a better horse running on turf than dirt, and it wouldn't be a surprise to seem him take another step forward in the Speakeasy on Saturday.
Without a lot off handicapping information to work with, the Speakeasy is a race where you might just want to play a hunch and try to get a price, and in that case 8-1 Whooping Jay is an option. He's only raced once, on the dirt at Los Alamitos, where he got into a speed duel early and then put the field away to win by more than five lengths.
It's a complete mystery how he'll handle the switch in surfaces, but he has lots of speed out of the gate and if he takes a liking to the grass he just might go wire-to-wire for the win.
Turf Pedigree As A Handicapping Angle
One angle to look at when trying to handicap horses making their first start on turf is pedigree, and we find turf racing background in the bloodline of Principe Carlo, the longest shot in the board at 20-1 in the morning line.
His dam is a UK-bred named Princess Ezra who spent her 16-race career running on the grass, and although she didn't win much, just the fact Principe Carlo has turf racing in his pedigree is enough to take a shot with him in the trifectas and superfectas at a big price.
The Speakeasy Stakes goes Saturday, October 6 from Santa Anita Race Track in Arcadia, California. Race #4 on the day, post time is 2:05 PM Pacific.
Speakeasy Stakes Picks
1) #5 – Hartel (5-2)
2) #2 – Whooping Jay (8-1)
3) #3 – Mae Never No (2-1)
4) #6 – Principe Carlo (20-1)
Betting Santa Anita Races Online
You can bet the Speakeasy Stakes and the full Saturday race card at Santa Anita as well as all the other Breeders' Cup qualifying races taking place this weekend with an account at Bovada or one of these other top-rated online racebooks.