Betting Picks
Nathan's Famous Hot-Dog Contest Odds: Chestnut, Sudo A Cut Above The Rest
Joey Chestnut is the prohibitive -900 favorite to win the men's title in Nathan's Famous Fourth of July International Hot Dog-Eating Championship in Coney Island, Brooklyn
Miki Sudo is also heavily-favored to defend her women's title

Is it worth playing a longshot bet, or are these two the undisputed king and queen of Major League Eating?
When it comes to consuming hot dogs, Joey Chestnut is a prime filet. He's a cut above everyone else. The 36-year-old from Fulton County, Ky. has won the last four Nathan's titles, and 12 of the past 13 contests. He inhales hot dogs like they were oxygen.
On the women's side, Miki Sudo has grown to be equally dominant. The New Yorker has won the women's competition for six years running.
No wonder both are the overwhelming chalk to retain their titles when this year's contest is staged on July 4th. Chestnut is listed at -900 in Nathan's hot-dog-eating championships odds. Sudo is the -550 odds-on chalk to keep the women's title.
To earn a chance to knock off either of these legends, everyone entered must be a member of Major League Eating. Competitive male and female eaters must win one of 16 qualifying events staged across America. Each event offers $20,000 in cash prizes. For online sports bettors, the annual Nathan's competition is a popular wagering option, offering numerous prop betting options.
ESPN annually carries the event live and it routinely draws a viewership into the millions.
Men's Division: Chestnut The Leading Consumer
Chestnut is the Michael Jordan of wieners and buns. When it comes to devouring hot dogs, he's in a class all by himself.
Last year, Chestnut won the Nathan's men's title by consuming 71 hot dogs. No other competitive eater was able to devour more than 50. That's the hot dog-eating version of Secretariat's Triple Crown-clinching 31-length victory in the 1973 Belmont Stakes.
Chestnut's dominance isn't limited to consuming hot dogs, however. He holds no less than 48 competitive eating world records. When considering his hot dog-eating prowess, Chestnut is to wieners what Babe Ruth was to home runs and Wayne Gretzky to piling up points. The only records he breaks are his own.
Joey Chestnut really doesn't get the props/respect he deserves.

The man is like Wilt Chamberlain meets MJ meets Shaq... Truly one of the greatest and most dominant athletes of all time

— Gutterballs Bryant (@Sratatouille__) June 13, 2020
In 2007, Chestnut ate a world-record 66 hot dogs. He bumped that mark to 68 in 2009 and to 69 in 2013. Chestnut moved the standard to 70 in 2016, upped it to 72 in 2017, and to 74 in 2018.
Playing The Field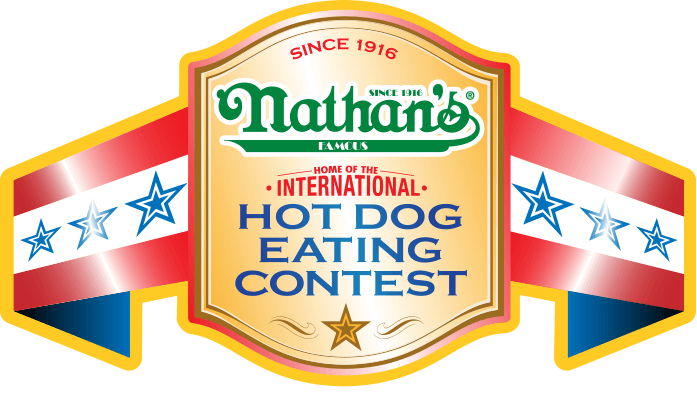 Should you consider playing the field in Nathan's hot dog eating contest betting line, MyBookie offers odds of -500 on Chestnut not winning the men's title. If you think someone can conquer Chestnut, all we can say is good luck with that.
Matt Stonie was the last person other than Chestnut to capture Nathan's men's title when he was the winner in 2015, ending Chestnut's eight-year reign. Stonie has never lived up to that billing again. Last year he finished fourth overall. Stonie downed 46 wieners and buns.
Geoff Esper, the third-place finisher at last year's hot dog eating contest with 47 hot dogs eaten, has proven capable of beating Chestnut in other competitive eating events. But he's never been close to him when it comes to hot dog eating.
A Female Joey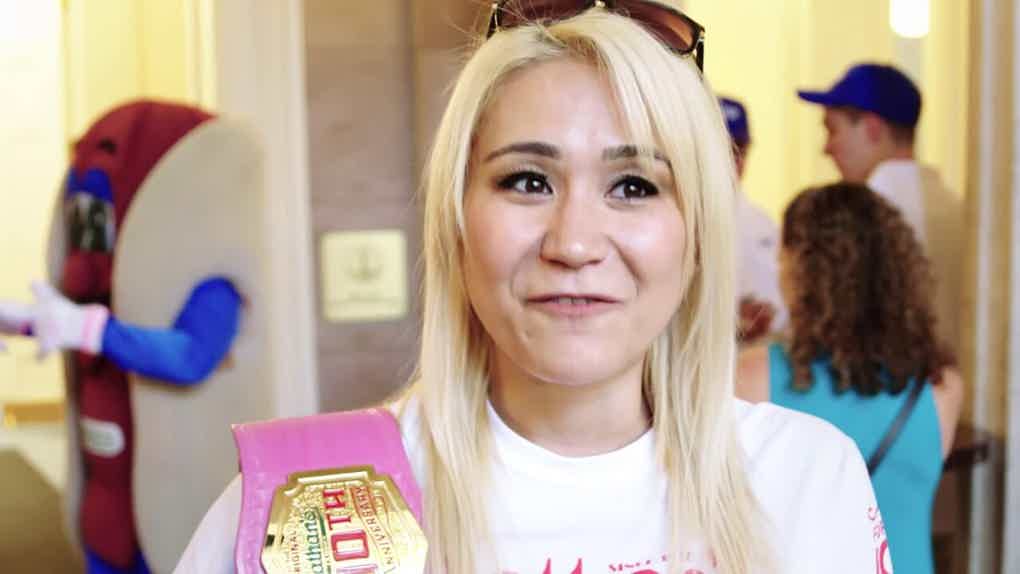 Miki Sudo (Photo from YouTube.com screenshot).
While she doesn't power down world-record numbers of hot dogs, Miki Sudo is like that steady performer who always gets the job done. With her sextet of consecutive Nathan's women's titles, it's hard to look past the Miki Sudo odds to win of -550.
At the same time, the gap between Sudo and her nearest competitors is closing. She consumed 31 hot dogs last year, just five more than second-place finisher Michelle Lesco. That was also 10 hot dogs off of Sudo's personal best of 41.
Lesco is looked upon as a rising star in the competitive eating world. She's finished second the past three years. Lesco is a world-record holder in pasta eating, mayonnaise eating, and hands-free hot dog eating, and just might be worth a play this year.
Hot Dog Eating Props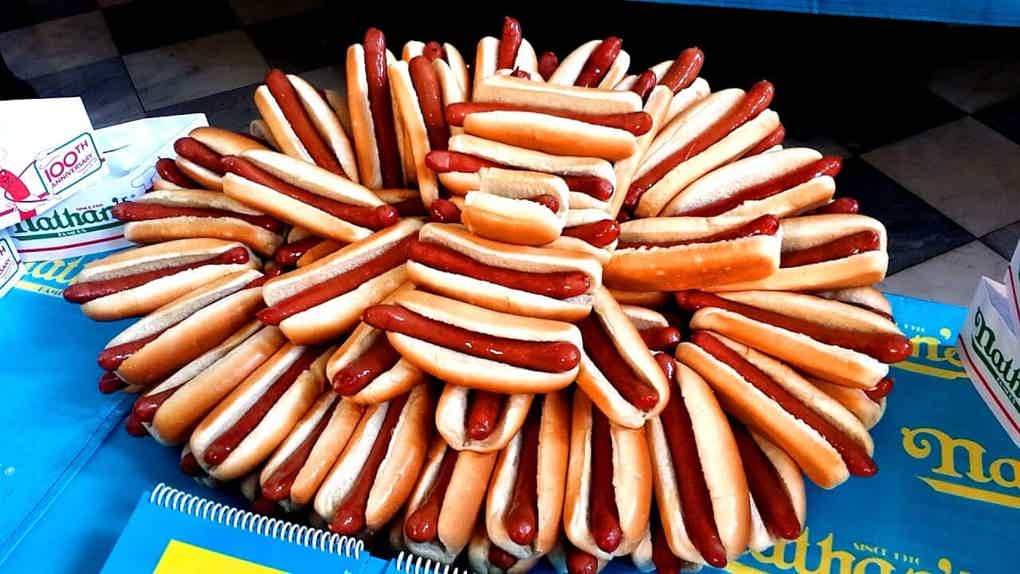 Nathan's Hot Dog Eating Contest (Photo from YouTube.com screenshot).
One of the more entertaining aspects of playing the Nathan's betting odds is that there are always some unique prop wagers on offer with events such as this one.
In case you were wondering, the contestants have 10 minutes to eat as many hot dogs as they can gobble down. If a player vomits, they are disqualified from competition.
Will There Be Overtime?
If two or more players finish tied at the end of the 10-minute period, a sudden-death eat off is contested between those players. Each player is given a plate of five hot dogs. The first to consume all five is declared the winner.
In 2008, Chestnut defeated Japan's Takeru Kobayashi in an eat off to win his second title. In 1980, Joe Baldini defeated Paul Siederman in an eat off.
Is It Over Or Under?
MyBookie also offers total wagering on hot dogs consumed by the winner in each competition. The total bar on the men's event is set at 71.5 hot dogs.
Considering that Chestnut has downed an average of 72.3 hot dogs per year over the past three years, the overlooks to be the safe play.
On the women's side of the ledger, Sudo's winning total has decreased three years in succession. She ate 41 hot dogs in 2017, 37 in 2018, and just 31 last year.
This year's total of 37.5 hot dogs seems to be too high.
See below the top sportsbooks where you can wager online and choose the best one for you. Remember to claim your welcome bonuses.