Betting Picks
Tyson vs Roy Jones: Iron Mike Favored To Knock Out Jones
After the recent announcement of the exhibition rules, many sportsbooks dropped the match. Bets will be returned. Some may still have propositions.
It's been 18 years since Mike Tyson worked for real in a boxing ring and yet, the oddsmakers are fully on board with Iron Mike making short work of Roy Jones Jr. when the two former world boxing champions clash in the squared circle on Nov. 28 at the Staples Center in Los Angeles.
Mike Tyson is the -185 favorite to defeat Roy Jones Jr. in their Nov. 28 bout
Jones is the +150 underdog
A Tyson knockout is the favored method for the fight to end at odds of +135
Former heavyweight champion Tyson is the -185 odds-on favorite to emerge victorious in the bout, which is being billed as a boxing exhibition, albeit one that will conclude with a winner being determined.
Jones, 51, is the younger of the two fighters. He's also the fresher in terms of ring experience. Jones most recently fought 33 months ago. He scored a unanimous 10-round decision over Scott Sigmon on Feb. 8, 2018 and won the vacant WBU (German version) cruiserweight title.
Has Jones Bitten Off More Than He Can Chew?
Jones is 66-9 as a professional, with 47 knockouts. He's won world titles as a middleweight, super middleweight, light-heavyweight, cruiserweight and heavyweight. However, he's only fought once as a heavyweight. Jones scored a unanimous decision over John Ruiz to win the WBA world heavyweight title on March 3, 2003. Jones never opted to defend his title.
Tyson isn't just a heavyweight, he's a punishing heavyweight, arguably the most devastating puncher in the history of the weight class. Iron Mike is 50-6-2, with 44 knockouts. He took out some of the finest heavyweights in the game, including former champs Larry Holmes, Michael Spinks, and Trevor Berbick.
Jones has never stepped into the ring against anyone with the punching prowess of Tyson. In training videos, Tyson still displays that he's retained his hand speed and is capable of delivering a payload with his fists.
Can Jones Keep Up With Iron Mike?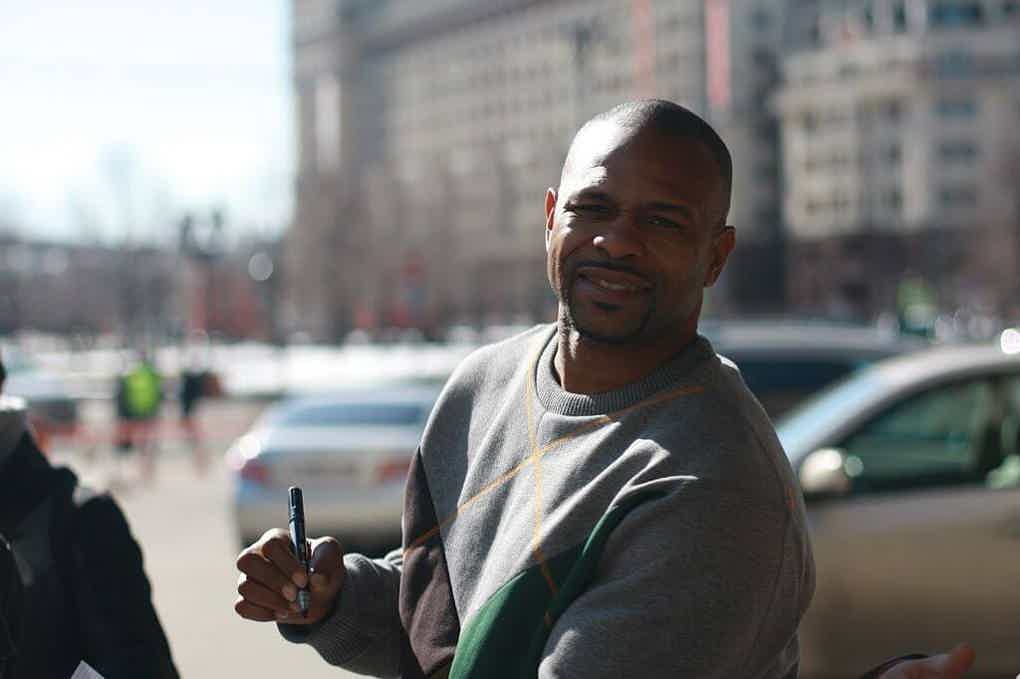 Roy Jones Jr. by Fedyanin Nikita is licensed under CC by 3.0
Boxers who've been in the ring with these fighters are offering their sports betting opinions on which way to play the Jones-Tyson fight in the Vegas boxing odds and to a man, they are all firmly in Tyson's corner. Former heavyweight champ Buster Douglas, the first fighter to beat Tyson in the ring, still can't believe Jones accepted the fight.
Danny Williams, who beat Tyson in 2004, fears that Tyson will do significant harm to Jones. He makes a valid point. Though he fought at higher weight classes later in his career, physically, Jones is a middleweight. Moving up in weight class to face the most devastating puncher in boxing history just feels like a recipe for disaster.
If Jones were much younger than Tyson, you might be able to make a case for him. At 51, it's hard to imagine him getting the better of Iron Mike over eight rounds.
Will Tyson Make It A Short Night?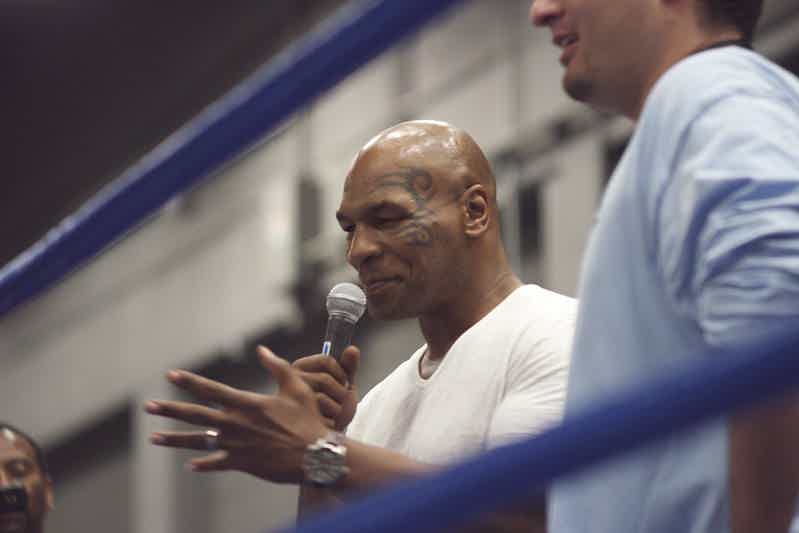 "Mike Tyson at SXSW 2011" by emerille is licensed under CC BY-SA 2.0

In his prime, Jones relied upon his elite athleticism to dance his way out of danger. That was his best defensive strategy. He didn't defend via his boxing acumen.
This is not good news when facing a punisher such as Tyson. At 51, will Jones still be able to utilize his elusiveness effectively enough to keep Tyson from landing a telling blow over the course of eight rounds? Oddsmakers don't think so. A Tyson win via knockout, TKO, or disqualification is listed as the favorite in how this bout will conclude.
The best hope for Jones is to stay away from Tyson in the early rounds and hope his 15-year absence from the ring will lead to Iron Mike running low on iron. Surprisingly, a Jones win by decision is third choice in the boxing betting odds as an outcome at a line of +250.
Best Tyson-Jones Prop Bets
The bar on the total rounds prop for the Tyson-Jones fight is set at 7.5 rounds. In the boxing odds, the under is the -140 favorite.
At MyBookie, the boxing picks offer a prop on which round the fight will end. The fight concluding in Round 8 or going the distance is the -140 favorite. The second betting choice is a first-round ending at +200.
A Jones victory by stoppage is worth odds of +200. Tyson winning by stoppage is given odds of -160. There's also a prop on whether either fighter will quit during the bout. Yes is favored at +140.
Where To Bet On Tyson-Jones Fight
There are a number of leading online sports betting sites that will provide bettors the chance to place a wager on the Tyson-Jones odds. The best bet you can make is to shop around in advance and seek out the best deal before joining one of these sportsbooks. Check out BetUS and MyBookie as examples.
The signup bonus offers that are in place at all of these recommended sites will prove advantageous to the bettor. And since you'll get a good deal wherever you go, why not shop around and find the best fit for your needs?
Do you want a risk-free first bet as a signup bonus? Perhaps you find a no-deposit bonus to be enticing. Or maybe you simply like the feel of cold, hard cash in your account and you want to go for a matching first deposit bonus. Whatever option you choose, you're already a winner.
See below the top sportsbooks where you can wager online and choose the best one for you: