Betting Picks
Breeders' Cup Dirt Mile 2018 Odds
The Dirt Mile was added to the Breeders' Cup World Championships in 2007, and has produced five winners with double-digit odds, with an average payout through its history of 11-1. In 2017 Battle Of Midway won at odds of 14-1, combining with 3-1 Sharp Azteca for a $164 exacta payout.
Here's a look at the probable lineup for 2018 with the first number indicating the Churchill Downs pre-entry odds, and the second the odds available at Bovada's online racebook. All runners are eligible to be bet at Bovada on request.
Final entries and morning line odds will be announce Monday, October 29.
Catalina Cruiser (5/2, +175)
A budding superstar, he's unbeaten in four straight races lifetime including two Grade 2 stakes wins in a row heading into the Breeders' Cup. If he likes the Churchill dirt he'll be very tough to beat.
Mind Your Biscuits (3/1, +600)
Versatile colt was third in the Breeders' Cup Sprint last year, second the year before that, and there's a chance he'll end up running in this year's Breeders' Cup Classic rather than this race.
City Of Light (6/1, +650)
His stock has dropped a bit after finishing second and third in his last two after banging off three straight wins earlier this year, two of those in Grade 1 stakes. He had to race very wide but got up for second last out as the favorite.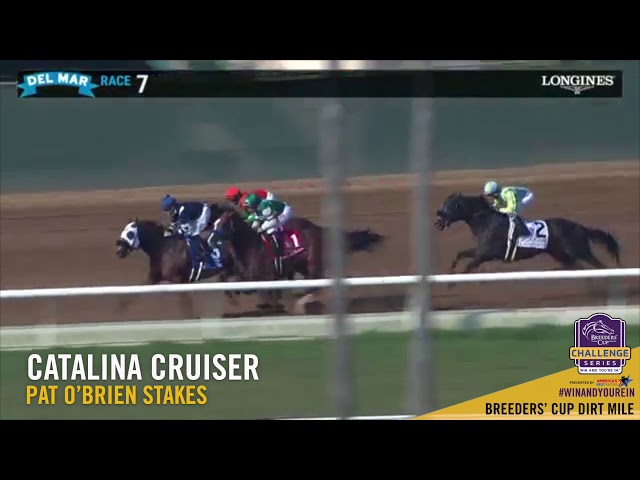 Betting Tips
The Distance Is A Question For Some
Limousine Liberal (12/1)
He has a pair of graded-stakes wins on the year including a win on the Churchill dirt in the (G2) Churchill Downs Stakes. A mile might be a bit further than he likes to run.
Promises Fulfilled (12/1)
He was 15th in the Kentucky Derby, but he has been a much better horse since trainer Dale Romans started running him in shorter races with three wins in a row. He might race in the BC Sprint.
Giant Expectations (15/1)
California-based colt has been running in some tough races against top competition and seems to be on the improve, but is winless in three starts so far in 2018.
Whitmore (15-1)
Ran well to capture the (G1) Forego Stakes at Saratoga two starts back and was just a head back in second to Promises fulfilled last start. He's another than may run in the Sprint instead.
Battle Of Midway Tries To Do It Again
Battle Of Midway (20/1)
Defending champ was off for more than nine months and has been second and fifth in two starts since coming back in August, the second of those as the favorite.
Firenze Fire (20/1)
Ran 11th in the 2018 Kentucky Derby and like Promises Fulfilled he's been better since cutting back in distance, fought back to win the (G3) Gallant Bloom stakes last race.
Trigger Warning (20/1)
While he was third at 80-1 last time out in the (G1) Pennsylvania Derby so could be useful in exotic bets, he's in very tough to win against this field.
Best Future Bet Value – City Of Light
Live Long Shot – Battle Of Midway
Bet The Breeders' Cup Dirt Mile
The 2018 Breeders' Cup Dirt Mile goes Saturday, November 3 from Churchill Downs, with an expected post time of 1:16 PM Eastern. The race will be broadcast live on the NBC Sports Network.
You can bet the entire Breeders' Cup World Championships schedule of races online at Bovada or one of these other top-rated racebooks.