Betting Picks
NFL: Best Bets And Top Picks For The 2020-21 Season
The NFL odds for the 2020-21 season are already available.
The NFL season will soon be upon us. There's no sport that grabs the attention of the North American sports bettor in the same manner that the NFL does. Sundays in the USA are reserved for professional football. It's a bettor's delight and the sportsbooks ensure that there's an endless buffet of wagering opportunities on the NFL. Moneylines, point spreads, totals, props, and futures – there's something to satisfy every bettor.
NFL betting options at online sportsbooks are numerous
Bovada currently offers 226 NFL special wagers
GT Bets provides lines on more than a dozen NFL future bets
The reason why NFL betting is America's No. 1 sports wagering pursuit isn't difficult to comprehend. The commitment required to handicap a 16-game season is vastly different from the hours of research that will be necessitated to break down wagering possibilities over the course of an 82-game NBA season, or a 162-game MLB campaign.
Let's analyze some of the best bets that are available for the 2020-21 NFL season.
Super Bowl: Chiefs Favored To Repeat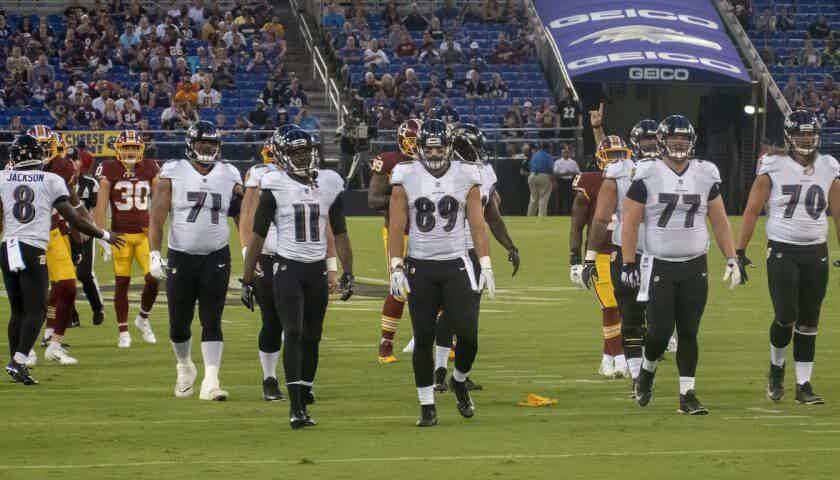 Baltimore Ravens. Photo by: Keith Allison (Flickr).
It took the Kansas City Chiefs 50 years to win their second Super Bowl but GT Bets is pegging the Chiefs as the +450 chalk to turn in a repeat performance. The odds seem to be against that likelihood. This will be Super Bowl 55, and you have to go back to Super Bowls 38-39, when the New England Patriots did it, to locate a repeat winner.
Another team to avoid are the reigning NFC champion San Francisco 49ers (+900). No losing NFC team has returned to the Super Bowl the next season since the Dallas Cowboys in Super Bowls 5-6.
The Baltimore Ravens (+600) were the NFL's best regular-season team in 2019-20. Patrick Mahomes led the Chiefs to a Super Bowl in his second season as starting quarterback. Might Baltimore's Lamar Jackson follow the same script?
If it's a price you seek, the New Orleans Saints (+1100) have been on the cusp of breaking through for a few years now and look to be a solid play in the Super Bowl odds. Could Drew Brees join Tom Brady as a 40-something QB of a Super Bowl winner?
Pick: Baltimore Ravens (+600).
NFL MVP: QB Or Not QB?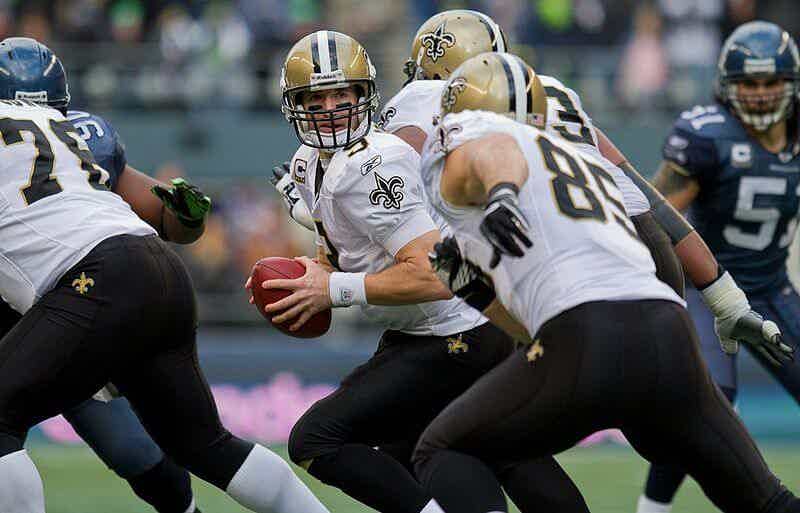 Drew Brees. Photo by Kelly Bailey (Flickr).
Jackson followed Mahomes as MVP. That marked the seventh straight season and 12th time in 13 years that the NFL MVP was a QB. Only Minnesota Vikings running back Adrian Peterson (2012) has proven able to break through this QB stranglehold.
Not surprisingly, Bovada lists 13 QBs atop the odds in their NFL MVP future book before getting to Carolina Panthers running back Christian McCaffrey at +3300. Of the top 19 in the betting line, 18 are QBs.
Pick: Drew Brees (+2000).
Give Props To These Win Totals
GT Bets is offering total wagering on win totals for every NFL team. There's somewhere you should go high, and others that call for going low.
Texans Are Underrated
The Houston Texans have won the past two AFC South Division titles but GT Bets is counting on them taking a fall this season. Houston's total wins bar is set at eight.
Most completions of 30+ yards in last two seasons

1. Patrick Mahomes - 59
2. Dak Prescott - 48
2. Aaron Rodgers - 48
4. Deshaun Watson - 47 pic.twitter.com/45CYNDL2gq

— PFF Fantasy Football (@PFF_Fantasy) May 15, 2020
That seems low. After successive 11 and 10-win seasons, take the Texans to go over eight wins.
Pick: Houston Texans over eight wins (+130).
Falcons Won't Soar
A second-half rally that saw them go 6-2 earned the Falcons their second straight 7-9 campaign.
In the NFC South, New Orleans remains strong and Tampa Bay is significantly upgraded. Atlanta will be hard-pressed to go 7-9 again.
Pick: Atlanta Falcons under 7.5 wins (-115).
Chargers In Need Of Recharge
The Los Angeles Chargers slumped from 12-4 to 5-11 last season. In the offseason, they jettisoned veteran QB Philip Rivers.
Their 2020 choices under center are first-round draft pick Justin Herbert or journeyman vet Tyrod Taylor. It could be a long year.
Pick: Los Angeles Chargers under 7.5 wins (+110).
Gronk On Comeback Trail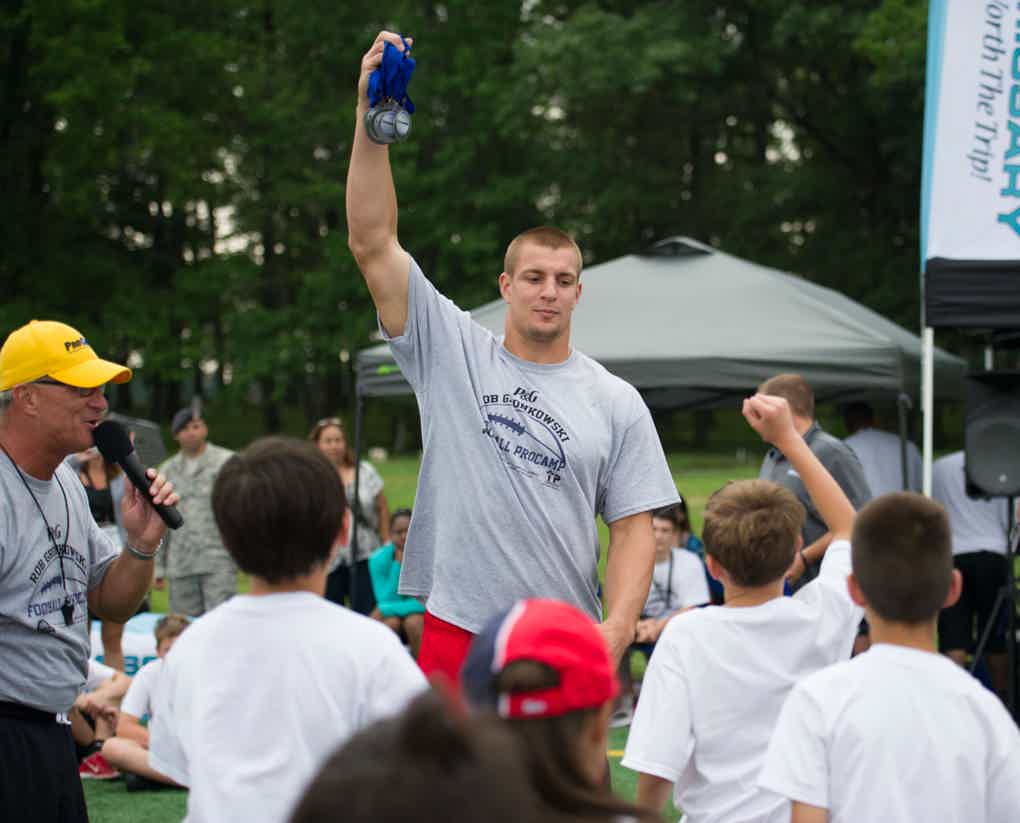 Rob Gronkowski. Photo by: Tech Sgt. Robert Cloys (Public Domain).
If Tom Brady leaving the New England Patriots for the Tampa Bay Buccaneers wasn't big enough news, he convinced his former Pats tight end and best buddy Rob Gronkowski to end his one-year retirement and also join the Bucs.
Bovada immediately established Gronk as the +325 chalk to be the NFL's Comeback Player of the Year. But it's a crowded field of top players bouncing back from injury. Pittsburgh Steelers QB Ben Roethlisberger (+400), Detroit Lions QB Matthew Stafford (+650), Cincinnati Bengals receiver A.J. Green (+800) and Houston defensive lineman J.J. Watt (+750) are all legit threats to cop this award.
Odds weren't even offered on last year's winner, Tennessee Titans QB Ryan Tannehill when the season got underway. That's why this is an award where outside the box thinking can pay dividends.
Nick Foles joined the Chicago Bears after missing much of last season through injury. The Bears were a playoff team in 2017-18 that slumped last season. If Foles, the Super Bowl 53 MVP, ignites a turnaround in the Windy City, he's a good bet to take home this honor.
Pick: Nick Foles (+2000).
The Rookie Watch
Running backs and quarterbacks have dominated the NFL Offensive Rookie of the Year Award in recent years. They've split the past four awards and captured nine of the past 10.
On the other side of the ball, three different positions have won the past three NFL DROY awards.
NFL OROY
The first player chosen in the 2020 NFL Draft, QB Joe Burrow will be handed the reigns of the Cincinnati Bengals. Like Burrow, last year's OROY Kyler Murray was the Heisman Trophy winner and first overall pick in the NFL Draft.
Burrow's biggest challenge might come from QB Tua Tagovailoa in Miami. The Dolphins have progressed further as a team than the Bengals. That could help Tagovailoa's transition to the pro game.
Pick: Joe Burrow (+250).
NFL DROY
Washington's Chase Young was the best defensive player in the draft, and Detroit's Jeff Okudah also figures to start immediately. But the last three NFL DROY all played for playoff teams.
That being said, linebacker Patrick Queen walking into an ideal situation with the Ravens makes him a value bet.
Pick: Patrick Queen (+850).
See below the top sportsbooks where you can wager online and choose the best one for you: