Though the race had been run since 1981 as the Arlington Million, it was renamed this year as the Mister D. Stakes, in honor of Arlington's chairman emeritus Richard Duchossois.
Many top turf horses have won this race throughout its history. The last time it was run, in 2019, the eventual Horse of the Year Bricks and Mortar won the crown. Other stars who have won the Arlington Million over the years include John Henry, Awad, Chester House, Powerscourt,  Little Mike, and fan-favorite The Pizza Man.
2021 Mister D. Field
These are the official entrants for the 2021 Mister D. Stakes, along with their post positions, trainers, and jockeys:
Strong Tide (Michael Lauer/Julio Felix)

Glynn County (Michael Maker/Julien Leparoux)

Domestic Spending (Chad Brown/Flavien Prat)

Two Emmys (Hugh Robertson/James Graham)

Zulu Alpha (Michael Maker/Luis Saez)

Another Mystery (Chris Block/Jose Lopez)

Space Traveller (Brendan Walsh/Daniel Tudhope)

Bizzee Channel (Larry Rivelli/Jareth Loveberry)

Armory (Aidan O'Brien/Ryan Moore)

Big Dreaming (Wayne Catalano/Adam Beschizza)
The morning line will be released closer to the time of the race. And, make sure to keep an eye on the best online racebooks in the days leading up to the Mister D. Stakes, so you can lock in the best odds when the horse you think will win the big race is an overlay. 
Betting the Mister D. Stakes Online
With this likely being the last year of Arlington Park, tickets to Arlington Million Day (the card that features the Mister D. Stakes) are selling out fast. If you cannot make it to Chicago for the race or you cannot get a ticket in your favorite section, you can still enjoy the Mister D. Stakes from anywhere by creating an account on a trusted online racebook.
Selecting the best online sportsbook to bet the races can be difficult because there are so many options. Fortunately, our reviews give you trusted information about which sites have the best features, bonuses, odds, and cash-out options for every bettor. Choose the one that is right for you, and be ready to bet on horse races with confidence!
Mister D. Stakes Contenders
The marquee horses in the 2021 Mister D. Stakes are #3 Domestic Spending and #9 Armory.
Domestic Spending is trained by Chad Brown, who has won four editions of the Arlington Million, including each of the last three. Domestic Spending is his top turf horse right now, after victories in the Woodford Reserve Turf Classic (G1) and Manhattan (G1). He is a closer, and he should get some pace to chase thanks to #1 Strong Tide, #4 Two Emmys, and #10 Big Dreaming.
However, when a horse comes in from overseas with a recent Group-level class, they can often hold their own with an American Grade 1 horse. #9 Armory should be able to do just that. He ships in for trainer Aidan O'Brien, who always comes live on Million Day. Though he is not yet a Group 1 winner, he has won four Group-level stakes in Europe and hit the board in 6 Group 1s.
Armory should be able to benefit from the likely sharp pace in the Mister D. Stakes. Furthermore, with form lines where he finished close to horses like Magical and Love going a mile and a quarter, he is truly world-class at the same distance as this race. That sets up to make him the horse to bet.
The most interesting among the rest of the field are a pair of the Chicago locals, #8 Bizzee Channel, and #6 Another Mystery. They finished 1-3 in the Arlington Stakes, the local prep. Though 2nd-place Two Emmys also returns here, he will not get as easy a trip upfront as he got last time. This race sets up better for a horse who can get past foes.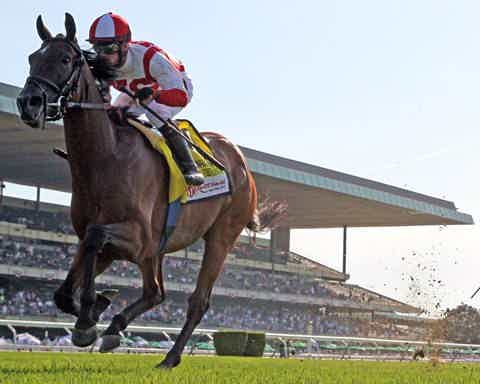 Bizzee Channel is trained by Larry Rivelli, the perennial leading trainer at Arlington. Though he typically has more main-track horses and sprinters than turf horses and routers, he has done well with Bizzee Channel going long on the grass his entire career. And, with the tactical speed he showed when winning the Arlington Stakes, he could settle well and get the jump on the closers.
Another Mystery hails from the barn of Chris Block, a sharp local trainer with a history of hitting the board on Arlington Million day. He does his better work when he can chase a contested pace. And, in his only 1 1/4-mile effort, he closed to run a very good third behind the well-proven United in last year's John Henry Turf Championship (G2) at Del Mar.
One other horse who deserves a note is #5 Zulu Alpha.  He will be an underlay in the Mister D. Even though he has back class, and even that surprising win in last year's Pegasus World Cup Turf (G1) at a similar distance, he is at his best over a mile and a half and he needs to prove that he is close to the form he found last year. There is room to move forward second off the layoff, but it's unlikely that the price will be right to bet that he moves forward enough.
Mister D. Stakes Best Bets
Here are your best bets for the 2021 Mister D. Stakes!
$10 Win: #9 Armory

$5 Exacta Key: #9 Armory with #3 Domestic Spending and #8 Bizzee Channel

$1 Trifecta Key #9 Armory with #3 Domestic Spending, #6 Another Mystery, and #8 Bizzee Channel